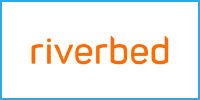 Riverbed SteelHead™ SaaS accelerates the delivery of SaaS applications, like Office 365 and Salesforce.com, by up to 33x. Now you can get accelerated applications and manage the delivery of business-critical data and content from the SaaS provider— without the bottlenecks of delay, protocol inefficiencies, and bandwidth restrictions of Internet or hybrid networks.
Features and benefits:
SteelHead SaaS, accelerates cloud-based services and SaaS applications such as Office 365 and Salesforce.com. It finds the fastest path from your end users to their SaaS applications.
Combined WAN and Internet optimization
Enables the seamless optimization of application traffic across both the private WAN and the Internet, all the way to the front door of the SaaS application provider.

Installs Cloud SteelHead Accelerator within the Akamai Intelligent Platform.
A simple checkbox for deployment
Deploys instantly and transparently with a simple license activation.

Starts optimization for SaaS applications with a simple check of a box — no need for remote deployment or management.
Riverbed Data, Transport and Application Streamlining
Data Deduplication: Reduces bandwidth utilization by up to 99%.

Transport Streamlining: Reduces the number of TCP packets required to transfer databy 65 to 98% and enables the acceleration of SSL-encrypted traffic.

Application Streamlining: Reduces application protocol chattiness up to 98%.