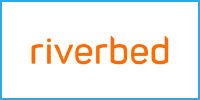 Managing a corporate network and maintaining predictable and reliable application performance is a challenging task that is getting harder with industry trends such as cloud computing, virtualization, consolidation, and other industry trends.
Historically, performance management solutions have managed network and application performance in isolation, leading to slow troubleshooting and insufficient understanding of the IT environment. Cascade® is an application aware network performance management (NPM) solution from Riverbed Technology that understands the relationship between application performance and the network.
The NetProfiler appliance and the Cascade® Gateway, are an integral part of Cascade solution family that gives IT and network managers the power to quickly and holistically view network and application performance problems and dramatically accelerate mented a Cascade solution typically experience 519 % ROI in less than six months.