What Admins Can Expect From V13
MailStore 13 offers several new features and improvements that simplify the work of administrators. Here are some of the features that are particularly relevant for admins:
Improved Support of Cloud-Based Services and Modern Authentication
MailStore Server and the MailStore Service Provider Edition (SPE) now support OAuth2 and OpenID Connect, which significantly enhances MailStore's integration in the cloud-based environments of Microsoft 365 and Google G Suite. This is good news for admins, as it not only enhances MailStore's user friendliness in combination with these cloud-based services, but also increases security. Administrators benefit from standardized login policies by being able to use the same settings of their Microsoft 365 or Google G Suite clients for MailStore Server (including e.g. multi-factor authentication) without having to enable legacy authentication or the less secure application access. The new two-step login process emulates the login routines used in modern web applications, and MailStore no longer has to process the passwords of remote users during authentication.
In addition, the new dedicated Microsoft 365 archiving and export profiles make it easier for admins to configure profiles. Here too, the support of modern OAuth2 authentication not only improves security but also integration with Microsoft 365.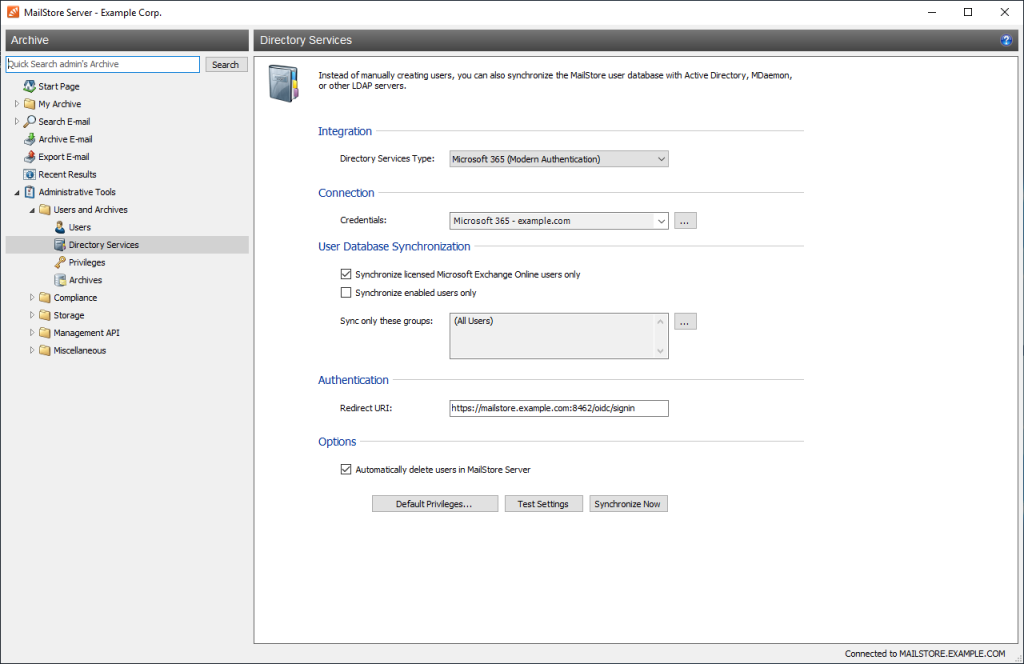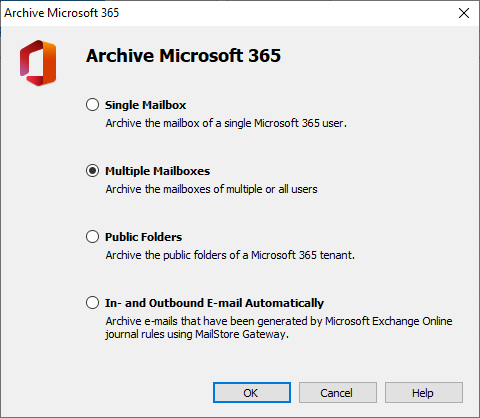 Network Share Management
MailStore Server admins now benefit from improved management of network share settings. These settings can now be managed more comfortably and securely via MailStore Server's Service Configuration rather than via the startup script – e.g. when using a NAS.
Group Policies
Creating group policies for the MailStore Client and the MailStore Outlook Add-in is now easier than ever before: in the case of MailStore Server, the templates are now included in the installation, while in the SPE, they can be downloaded from the Client Access Server's default page. In Version 13, these templates are available in all languages supported by MailStore.
Certificate Validation
A further improvement for MailStore Server and SPE administrators is the new certificate validation. This has been aligned with the validation process used in most of the important web browsers, enabling administrators to create and implement standardized security and certificate policies for all MailStore clients (MailStore Client, Outlook-Add-in and Web Access).
Encrypted Connections Only
In Version 13, the support of unencrypted connections to MailStore Server has been completely removed. So, administrators can rest assured that all MailStore Server installations permit only encrypted connections with the archive, which can be particularly useful for administrators managing several installations.